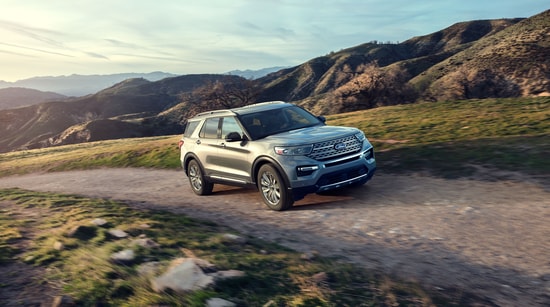 Ford has long been known for its quality vehicles and competitiveness in the SUV class. Two of their more notable SUV's are the Explorer and the Expedition. They both offer many great features that are synonymous with the Ford brand while having their own unique benefits. When shopping between the two, it is best to look at what both have to offer and decide which one better fit your needs in Savannah, TN.
Ford Explorer
The Ford Explorer is the smaller of the two vehicles, allowing for good fuel efficiency. The Explorer boasts up to 29 miles per gallon on the highway and 27 in the city, making many fewer trips to the gas station. This SUV has up to 300 horsepower and has been known to tow up to 5,600 pounds. Inside, the Explorer seats up to seven passengers and provides ample cargo room. There are 18.2 cubic feet of storage behind the final row, which goes up to 87.8 cubic feet of storage with both rear rows folded down.
Ford Expedition
The Ford Expedition, the larger of the two, comes in at 17 miles per gallon in the city and up to 24 miles per gallon on the highway. Under the hood, the Expedition comes with 375 horsepower and the ability to tow up to 9,300 pounds. Inside the vehicle, the Expedition is able to comfortably sit up to eight people comfortably. The Expedition also boasts a large amount of cargo room able to haul items from the most active of families. The initial 34.3 cubic feet of cargo room in the rear space increases to 121.5 cubic feet with both rear rows of seats folded down. With the larger vehicle in the Expedition, there is more head and legroom available in the rear seating as well.
See the Ford Explorer and Expedition Today
With both options between the Ford Explorer and Expedition, they are ranked in the top SUVs in their class. It really comes down to what you are looking for as a consumer, be it increased space and towing capacity or better handling and fuel efficiency. The best way to choose is to take each for a test drive!